Welcome!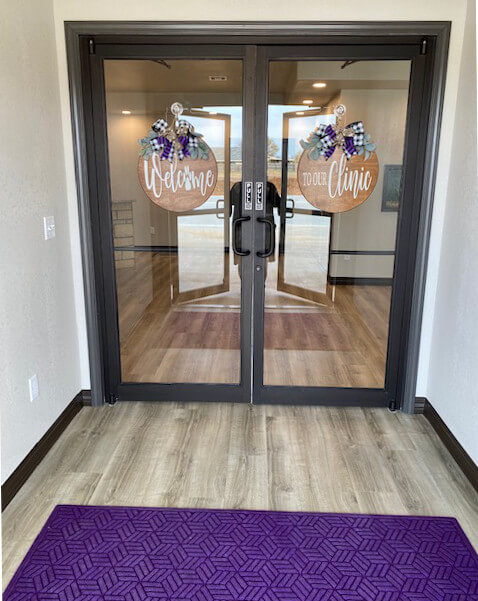 Welcome to Cottonwood Animal Clinic where we look forward to helping you with your animals' health care needs in Cowley County, KS, and the surrounding area. Our mixed animal clinic was established in 1978 by Dr. Steve Abrams and his wife, Susan. In 2013, their youngest son, Dr. Carson Abrams joined the practice as a veterinarian, and recently Dr. KaCee Tyler joined the practice as well.
We understand that you care very much for your animals, and we want you to know that we look forward to partnering with you in this endeavor. You know that you and the people around you tend to function better when you eat well, take some time to exercise, and reduce your risk of dangerous conditions, for instance, you put on sunscreen when you are going to be exposed to the sun. You realize what you need to do to take care of yourself, and you also want to do what you can to take care of your animals, too. But sometimes you have questions, and that's where we fit in. When you have questions about a vaccination schedule for your pet or for your herd, we are here for you.
When you have questions about the nutritional needs of any of your animals in their various stages of life, we are here for you. Even when you do the best you can, things happen. We want to partner with you in navigating those hard times with your animals in providing various treatment options and then supporting you the best we can through it all.
Over the past four decades, a few things at the clinic have changed. It has grown, a smaller percentage of the staff is actually family, and technology has greatly improved. The one thing that has not changed is that we still look forward to seeing you and your animals visiting us at the clinic.
Our History
In 1978, Dr. Steve and Susan Abrams purchased an old gas station about a mile north of Arkansas City on the old Highway 77, and they remodeled the building into a small veterinary clinic. It was originally named Abrams Animal Hospital. The clinic has always been a mixed animal practice, meaning there are veterinary services for both large animals and small animals.
During the 1980's, they changed the name to Cottonwood Animal Clinic and they added two additional locations in Wellington, KS and Harper, KS. After a few years, they decided to lighten the load in order to spend more time with family and other interests. The two locations in Wellington and Harper were sold, and so once again Cottonwood Animal Clinic's sole location is in Arkansas City, KS. In 2015, the clinic was was remodeled to add on another exam room, additional office space and outdoor runs. Throughout the years, there have been several wonderful veterinarians on staff with us since 1978 including Dr. Keith Branson, Dr. Dan Hefley, Dr. Mary Brownlee, Dr. Ann Dutton, and Dr. Lynde Murray, Dr. Bill McKinley and Dr. Carson Abrams. ​
Many things have changed since 1978, but some things have stayed the same. Dr. Steve & Susan's family has been constantly around the clinic. Now, instead of their own children running around the clinic, it is not uncommon to find one of their grandchildren from time to time either as an employee or just visiting. The business has always been a family venture, and all four of their children have worked at CAC at some point. In 2013, their youngest, Carson, graduated from Kansas State University with a veterinary degree. He and his wife, Elizabeth promptly returned home to join the practice. In 2017, their eldest, Tamen, joined the CAC staff again after 20+ years in the education field.
The Lord has blessed in many ways. It is a joy to have so many memories at the clinic involving family, wonderful clients and of course the privilege of helping so many different animals and learning that each one has its own personality.