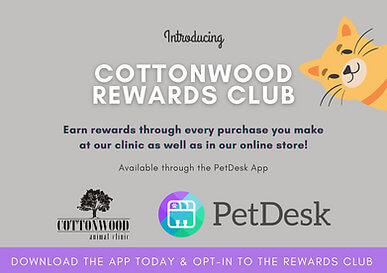 Clients can enjoy the Cottonwood Rewards Club by downloading the PetDesk App and then Opt-In to the loyalty club.
We appreciate the opportunity to get to partner with our clients in meeting our patients health care needs. We understand that the costs associated with caring for pets can add up.
We are introducing a loyalty club for our clients to help off-set some of the costs associated with pet ownership. All costs associated with small animal services and products that are purchased in our store or in our online pharmacy will count towards the client's reward points. Each client receives 200 welcome points at sign-up, and there is no additional cost to be a member of the Cottonwood Rewards Club.
​
Here are some of the rewards:
250 Pet Paws = $5 off a retail purchase
400 Pet Paws = $10 off your next visit
400 Pet Paws = $10 to a local shelter of your choice
450 Pet Paws = Free bag of treats
500 Pet Paws = Free nail trim
500 Pet Paws = Free anal gland expression
600 Pet Paws = 50% off rabies vaccination when purchasing in combination with at least one other vaccination
800 Pet Paws = Free dose of flea/tick prevention
900 Pet Paws = 50% off your vaccines when current on rabies vaccination
And more!